Hello, I am Diego and I have been passionate about acting ever since second grade. Since then, without rest or pause, I completed an entire educational career in the dramatic arts, singing, dancing and musical theater.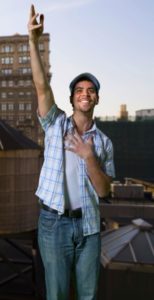 Education: South Miami Elementary and Middle School Drama Magnet programs, French Woods Festival of the Performing Arts, New World School of the Arts Musical Theatre Training, and finally The Boston Conservatory of Music.
I made a transition into Musical Theatre in middle school because I had a special teacher who believed in me. Thank you Madeline Marchante.
Musical Theatre is where all art forms intersect.
During college, I was offered the opportunity to begin my professional career when the Underground Railway Theatre offered me a role in Car Talk: The Musical!!! I have unlimited gratitude to Deborah Wise and everyone else at URT for opening the door to my professional beginning.
After working an entire summer in Boston, I was back to school and cast in my next professional show: Bloody Bloody Andrew Jackson at SpeakEasy Stage Company.  Here, I met Paul Daigneault, who also offered me the role that changed my life: Usnavi in In The Heights.
Since that initial production in 2013, I have gone on to share this special story with 6 different theatre companies around the country.
Between all of this were a couple small television roles, and a short tour with a comedy show.
I have recently been scoping out Los Angeles and hope to make a full transition after bearing the Boston and New York City cold!
You can not take the Florida out of the boy!
I am making strong, bold, meaningful art. Performance happens to be my forte, my outlet, and the purpose of art is to change and reflect humanity onto itself.
It is indeed the job of an artist to make the world a better place.
Let us build and inspire everyone around and tear down the imaginary barriers that divide us.
With love,
Diego